Super Sucker Suction Cum Jetting Units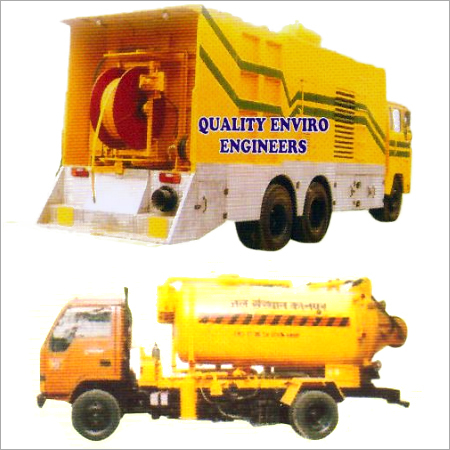 Super Sucker Suction Cum Jetting Units
Price And Quantity
Product Specifications
Product Description
Super Sucker Suction cum Jetting Units
The manufacturing technique of the provided Super Sucker Cum Jetting Units conforms to Indian as well as global norms and guidelines. These units are basically combined form of advanced Blow Back System of Gully Man brand and High Pressure Sewer Jetting and Suction system of Mul Jet brand. Extensively used for sewer line de-slitting work, these units are also instrumental in performing the below mentioned procedures:
Maintenance and thorough cleaning of septic tanks
Monitoring of lines via CCTV arrangement
Linear provision work
De slitting of branch and trunk lines having 200-2000 mm diameter
Advantages
As part of their design, two different tanks for storing sludge and fresh water are offered with these units.
These suction cum jetting systems are capable of performing jetting and suction works simultaneously.
The mechanism of these units is similar to the operation of independent Mul Jet High Pressure Sewer Jetting and Suction and Blow Back System of Gully Man.
Salient Features
The provided units are equipped with precise sewer lines or drainage facility with having 4" to 36" length. High force water jet pressure is applied to cleanse these units.
The blow back system of these units is used for blending of settled slit or deposited substances inside septic tank or manhole with the water based slurry. The entire mixture is drawn back inside the tank via suction.
Accessible in different working capacity options, these are offered with chassis mounted structure. These units can be obtained with optional arm facility for trouble free installation of their suction hoses. Clients can choose different versions of these units like HCV/MCV/LCV with trailer mounted or chassis mounted design. The suction mechanism adopted as part of their operation is capable of removing slit or solid sludge from 8 meter deep septic tank or manhole. The extent of tank or manhole depth can be raised by using additional accessories.
| | |
| --- | --- |
| Operation Mode | Semi-Automatic |
| Application | Sewer Cleaning |
| Material | Mild Steel |
| Capacity | 500- 8000 Ltr |
| Brand | Quality Enviro Engineers Make |
| Automation Grade | Semi-Automatic |
| Body Material | MS |
| Air Flow | 600- 4500Cum/Hr |
| Handling Capacities Rang | 30 Mtr |
| Warranty | 1 Year |
| Flow Rate | 800- 4500 CUm/hr |
| Hose Length | 40 Mtr |